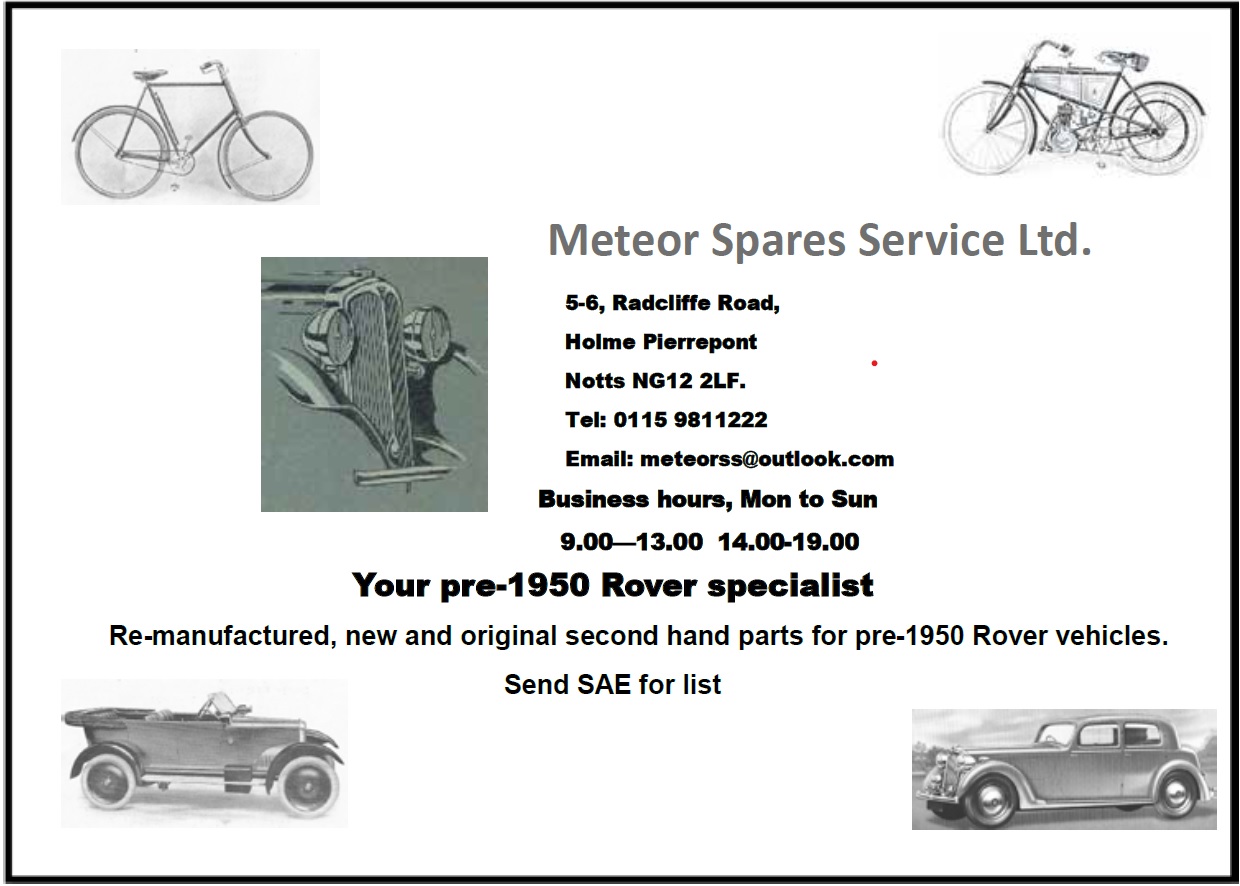 Meteor Spares Ltd
YOUR PRE 1950 ROVER SPECIALIST
VIRTUALLY EVERYTHING
YOU NEED TO COMPLETE
YOUR ROVER P2/P3.

GASKETS, ROCKER SHAFTS, ROCKER BUSHES, VALVE SPRINGS & GUIDES, PISTONS, LINERS,
BEARINGS, ENGINE & GEARBOX MOUNTINGS, UNIVERSAL JOINTS, EXCHANGE CLUTCHES, WATER
PUMPS, FAN BELTS, TIMING CHAINS, CORE PLUGS, ALL ENGINE WATER CASTINGS, CARBURETTOR
SPARES, HOSES, SPEEDO CABLES, OIL AND PETROL PIPES, SHOCK ABSORBERS REPAIRED,
OVERHAULED AND RE-BUSHED, SHOCK ABSORBER LINKS RE-BUSHED BRAKE LININGS, WHEEL
CYLINDER KITS, CLEVIS PINS, BRAKE CYLINDER, DUST COVERS, BRAKE HOSES, STEERING
WHEELS REFURBISHED, KING PINS, TRACK ROD ENDS, SHACKLE PINS, SHACKLE BUSHES,
STEERING BOXES RE-BUILT, ROAD SPRINGS REPAIRED ETC. OVERRIDER RUBBERS, RADIATOR
MOUNTINGS, ENGINE MOUNTINGS, FRONT AND REAR SUSPENSION BUMP STOPS, GEARBOX
MOUNTINGS, BADGE BARS, BADGE MOUNTING BRACKETS, RAINWATER ESCUTCHEONS,
STARTING HANDLE HOLEBUNGS, FRONT BUMPER FURNITURE, QUARTER BUMPERS, OVERRIDERS, INTERIOR & SOME EXTERIOR DOOR HANDLES, HUBCAPS, LAMP PARTS, RADIATOR CAPS, VIKING HEADS, WINDOW GLASS, DOOR, BOOT & GLASS SEALS, EXTRUSIONS AND CAPPINGS ETC, RUNNING BOARD MATS, DRIVERS HEEL MATS, TOOL TRAY INSERTS, REAR QUARTER PANELS, TAIL REPAIR SECTIONS, P2 BOOT FLOOR PANEL, ALTETTE AND TRUMPET HORNS AND PARTS, BULBS, BULB
HOLDERS, ALL SPECIALISED GROMMETS, DOOR HINGE PARTS, REBUILT STARTERS DYNAMOS, FUEL PUMPS, WIPER MOTORS, INDICATORS & SWITCHES, PETROL PUMP PUSH RODS, POINTS, COILS, CONDENSORS, ROTOR ARMS, DISTRIBUTOR CAPS, IGNITION LEAD COVERS & CLIPS, NEW, REPAIRED & SECOND HAND GAUGES, TEMPERATURE GAUGES AND CLOCKS.
VAST STOCKS OF NEW AND SECOND-HAND ORIGINAL SPARES ORIGINAL LITERATURE BOUGHT SOLD AND COPIED. QUOTATIONS FOR "ONE-OFFS" AND MANUFACTURE OF OBSCURE PARTS. SPEEDO CABLES,OIL AND PETROL PIPES, SHOCK ABSORBERS REPAIRED, OVERHAULED AND RE-BUSHED, SHOCK ABSORBER LINKS RE-BUSHED BRAKE LININGS, WHEEL CYLINDER KITS, CLEVIS PINS, BRAKE CYLINDER DUST COVERS,. BRAKE HOSES,
5-6 RADCLIFFE ROAD, HOLME PIERREPONT, NOTTS. NG12 2LF,
TEL: 0115 9811222 8:30a.m. – 11:30p.m.
FAX 0115 9822901
Email:- meteorss@hotmail.com
CALLERS WELCOME BY APPOINTMENT SEND SAE FOR FREE LIST