RSR National Rally 2018
At Newby Hall, near Ripon, North Yorkshire
Entries on the day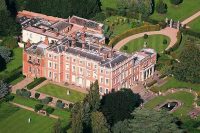 Following our policy of alternating national rallies in the Midlands with those in the regions, for 2018 we are off to North Yorkshire with the rally being held on Sunday the 24th June from 10a.m. at Newby Hall near Ripon, HG4 5AE.
The Hall is just off the A1 which, as it heads north, roughly divides the Yorkshire Dales to the west and the Vale of York and the North York Moors to the east. For those who think they are not familiar with the area, this is the setting of James Herriot's 'All Creatures Great and Small' with truly wonderful and varied scenery.
Designed under the guidance of Sir Christopher Wren, Newby Hall, home to the Compton family, epitomises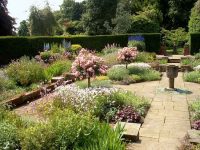 the Georgian "Age of Elegance". It's beautifully restored interior presents Robert Adam at his best and houses rare Gobelins tapestries and one of the UK's largest private collections of classical statuary. There is a permanent exhibition of 70 Dolls houses. The award winning gardens, created in the early 1920s, boast one of Europe's longest double herbaceous boarders and are of interest to specialist and amateur gardeners alike. Newby also offers a large, thoughtfully designed Adventure Garden for children, a miniature railway, excellent restaurant, shop and plant centre. Fans of the ITV 'Victoria' series might like to see if they can spot the parts of Newby Hall used for filming – it was one of many Yorkshire locations that contributed to the sumptuous evocation of Royal life.
RSR NATIONAL RALLY 2018
The rally fee of £7 ( inc postage of entry pack) provides access to the rally site and toilets and a commemorative plaque. For those wishing to visit the hall or gardens at Newby Hall we have a group rate. Whilst the group rates have not yet been confirmed for 2018, the rate for 2017 was £9.50 for the gardens or £14.50 for the Hall and gardens, OAPs paying £9 and £13.50 respectively.
During the day on Saturday there is an optional roadrun giving the opportunity to visit some of the splendid local areas. The committee are most grateful to Dave Perrins, RSR Regional Representative in Yorkshire, for undertaking all the arrangements for the rally and handling the entry bookings. This is a wonderful opportunity to visit a superb part of the country in your Rover and meet fellow enthusiasts.